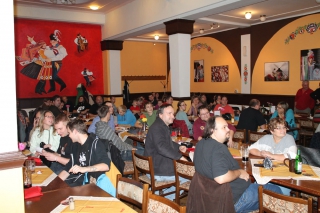 Since the year 2010 Gazpacho Soup Day Celebration is a traditional action among geocaching players in the Czech Republic and it is celebrated in more and more towns and cities. We would like to expand the celebration even abroad the Czech Republic. The list of arranged towns and cities is illustratively drawn in the
event map
.
Programme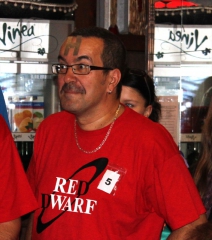 The main programme of this event is tasting the Gazpacho soup. Additional programme is voluntary and it depends on particular co-organiser of the celebration in particular town or city. The inspiration can be found in last year, there a competition in saluting in Arnold Rimmer's way was held or we compete with each other in cracking the bubble foil.
Event Geocoin
Another piece of news is creating of special event geocoin. For more information click here.
Souvenir
If a plenty of towns and cities aparticipate in the Gazpacho Soup Day, we could try to negotiate a status fo "multievent" for these events with Groundspeak and after that to gain a souvenir. At the moment GS provides only megaevents with souvenirs but we will see because till November the situation can be different.