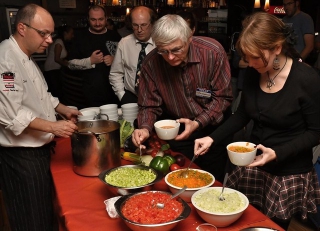 The Gazpacho Soup Day was celebrated within international geocaching game for the very first time in Prague in 2010. There was only meeting and tasting of Gazpacho soup and looking for a thematic cache on the agenda of the first year.
You could taste another thematic dish from the series Red Dwarf at the next year event – vindaloo chicken. Also we started to compete in saluting according Arnold Rimmer and, of course, there couldn't another event cache be absent.
 In last year in 2012 Prostějov joined Prague in celebrations. The programme was the same as in the year before, in addition to common programme there was a competition in cracking of bubble foil and a lot of thematic presents for attendees (event T-shirt, Wood Geocoin, relaxation foil and badges).