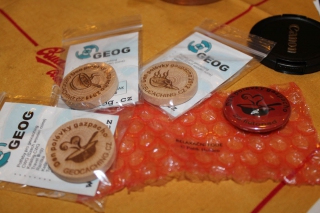 If you are interested in organising of the Gazpacho Soup Day Celebration in your town or city, at first check if the town isn't on the Event map. Of course, you can organise the celebration on your own, but we highly recommend to connect to us (section Contacts) and together we can coordinate the party – there are a few reasons:
presentation on these websites, on our facebook sites, etc. (it means arranging of advertisement and therefore more attendees)
collective making things up for a programme of individual actions
zarranging of souvenirs for the event (T-shirts, Wood Geocoins, badges, relaxation foils, etc.)
event geocoin
and finally, if everything goes well, even the GS souvenir
Phases of event preparation
March – August 2013
Preliminary showing of interest in event organising in your town or city and the beginning of looking into suitable place for this event (restaurant with sufficient capacity of places and with a cook who will be able to make Gazpacho soup).
September – November
It will be the best if you publish the listing in September and if you start to arrange additional programme.
Tip on the Gazpacho soup
According to our experience from last years, it's the best if the soup is served as a cold buffet, every attendee will get from the cook only a plate of soup and at the cold buffet you can season and flavour it according to your own taste with vegetables. There should be also some bakery produkts. When you will negotiate the restaurant, think about it because still man eats even with their sight.